Visitors explore Tower Hill Botanic Garden.
If you're anything like me, winter is the time of year you plan trips and garden excursions for the new year. If your travels take you anywhere near
Boylson
, Massachusetts, be sure to stop by
Tower Hill Botanic Garden
.
Located just an hour outside of
Boston
, Tower Hill is the 132 acre home of the
Westchester County Horticultural Society
. The botanic garden was founded by the Westchester County Horticultural Society in 1986 in order to meet the society's goal of serving as an "educational organization for the purpose of advancing the science and encouraging and improving the practice of horticulture."
Last summer I had the opportunity to visit Tower Hill as a part of the
Perennial Plant Association
's annual
symposium
. Although we were a large group, walking the grounds was anything but claustrophobic. It was refreshing to be able to take a leisurely stroll without bumping shoulders or feeling in the way of other visitors.
View of the Systematic Garden
from the Orangerie.
A few displays that I especially enjoyed were the Systematic Garden, the Secret Garden, and the Orangerie. The Systematic Garden had a very formal, symmetrical design. The plants are grouped not by size, color, or genus, but rather by evolutionary relationships. There was an excellent vista near the center of the Systemic Garden.
The Secret Garden was actually located very close to the parking lot. The tall trees and closely planted shrubs around the border made the area seem very secluded. Although one would expect cool tones like grays, blues, and silvers to be prominent in a secretive area, the Secret Garden was splashed with chartreuse, magenta, and the bold foliage of red leaf bananas. This seemed like the perfect spot to relax on one of the benches with a good book.
I've always felt something magical about conservatories, and the Orangerie was no different. Large, lovely specimens of tropical plants crowded together, harmoniously soaking sunlight through glass walls. A latin inscription was chiseled in the
lintel
above the Orangerie's doorway: "Si caelvm in terra sit haec id est laetittia aeterna." My latin isn't what it used to be, so I used Google to find the translation. According to another Tower Hill
review
, it means "If there be heaven on earth, this would be it. Joy everlasting."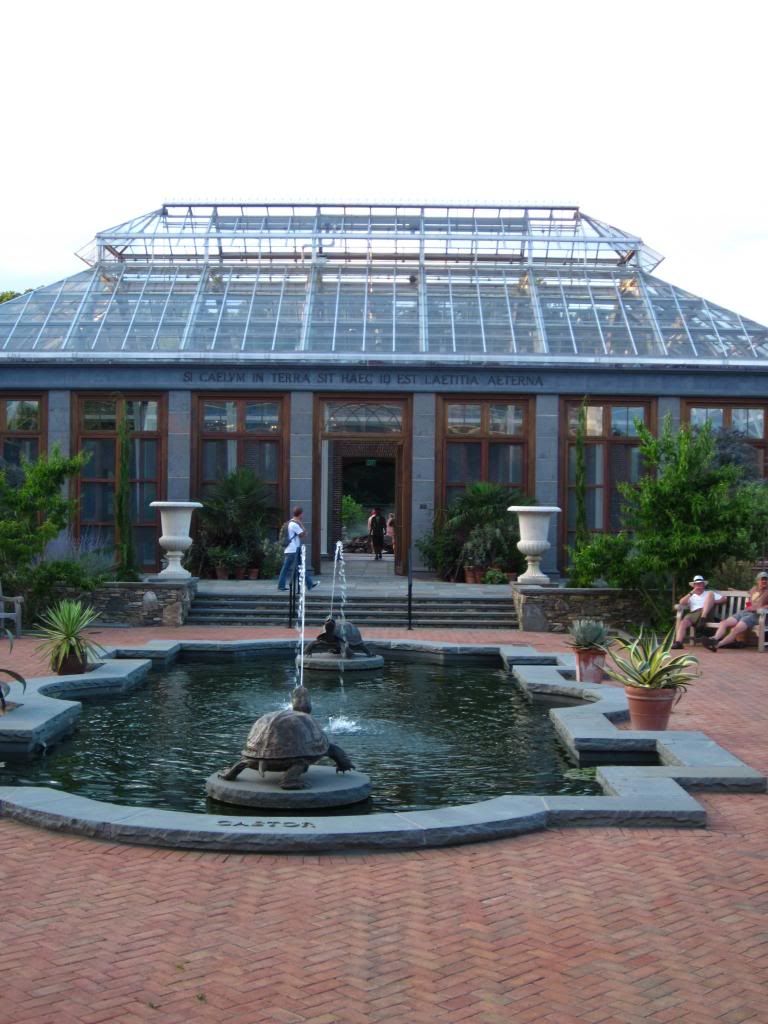 Turtle fountains grace the entrance to
the Orangerie at Tower Hill.
Other areas you shouldn't miss include the Inner Park, Wildlife Garden, Cottage and Vegetable Gardens. There is a Farm School Youth Garden area, but the area didn't have much self-guided value at the time of my visit. After romping around the garden, stop by
Twig's Cafe
(open 11 a.m. to 3 p.m.) to relax and reflect on your trip.
Other
important considerations
when planning your trip:
Hours of operation: 9 a.m. to 5 p.m. Tuesday through Sunday
Admission:

Adults $12
Seniors $9
Youth (6-18): $7
Members and children under 6: Free
Click HERE for $2 off regular admission.

Accessibility:

Limited to Stoddard Education and Visitor's Center, Lawn and Secret Gardens.
Wheelchairs available at the Information Center.
Special parking available on Allee Drive.

Pets:

Restricted to service animals only.

Tower Hill's guide to Garden Etiquette is available for review.
To see more photos of my visit to Tower Hill Botanic Garden, check out my
photobucket
story.
If you have any questions, ideas, or suggestions, leave a comment or shoot me an
email
.
What was your experience when visiting Tower Hill Botanic Garden? What features are important to you when planning horticultural excursions?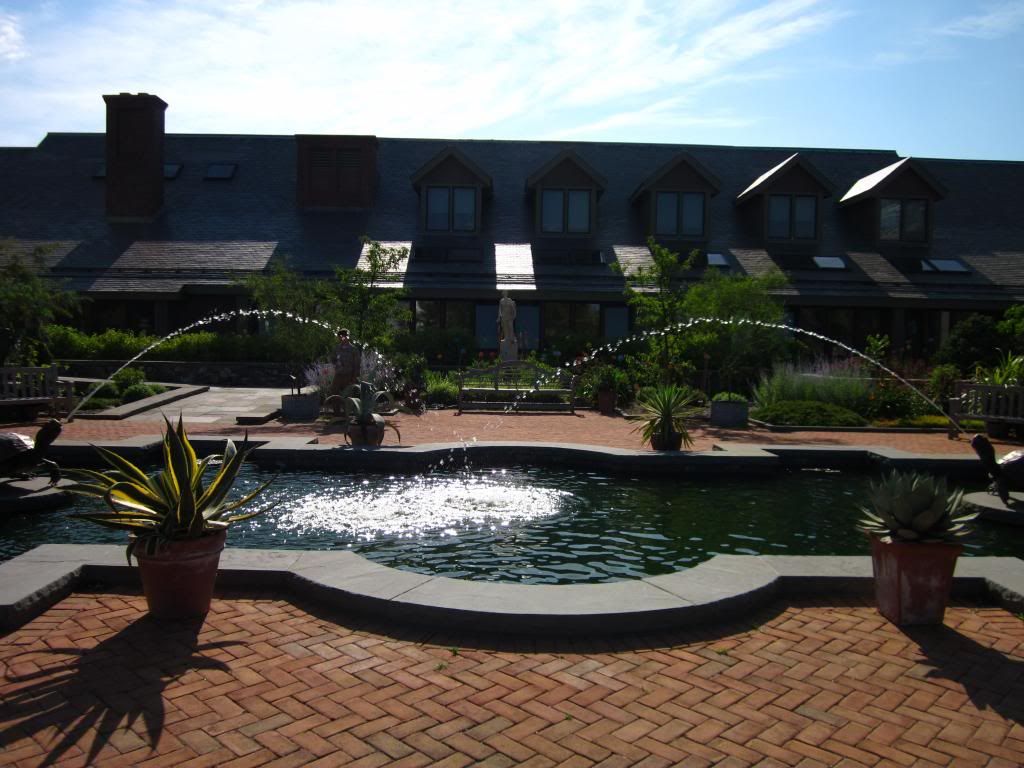 Fountain in the courtyard by the Stoddard Education and Visitor's Center and the Orangerie.
I strike a pose in the Systematic Garden at Tower Hill.